Episode #4: A Big Giant Fancy Baby in the Sky
In this very special episode of Just The Tip, Amy and Paul discuss flying.
Direct MP3 Download
SHOW NOTES
---
This episode was sponsored by: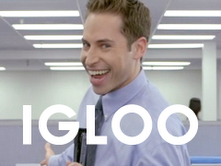 Igloo Software: Igloo provides your company with an intranet you'll actually like. It's easy, it's social, and best of all, it's free to use with up to ten people. Check it out today.